Tallahassee American Heart Association CPR, AED, Healthcare Provider BLS, PALS, ACLS, Bloodborne Pathogens and First Aid Certification Training Classes.
In our courses, we teach nurses, emt's, doctors, personal trainers, therapists, athletic trainers, home healthcare, childcare, daycare, construction workers, dentists, coaches, counselors, babysitters, new parents, teachers & anyone wanting to learn life-saving skills.
You can count on us for fun and educational classes. Why choose us? We have been teaching for over 18 years, we are all healthcare providers, nurses, emt's and paramedics and are all licensed and insured. Our client list includes thousands of satisfied customers and we give 2 year American Heart Association or ASHI certification cards the very same day of your training (most other centers mail you the cards!). We are known as the best in FL since we have top rated instructors, give booklets the same day, cpr keychain, everyone has their own manikin with a face shield and aed trainer to use and plenty of first aid supplies. Our professional instructors even hand out free cpr keychains to each student at the end of course. We are also a distributor of six brands of aeds (defibrillators) and carry various first aid, cpr and oxygen supplies.

Prices:
American Heart Association Heartsaver CPR and AED is $75
CPR, AED and First Aid is $80
Healthcare Provider BLS is $85
AHA American Heart Association Advanced Cardiac Life Support ACLS is $155
AHA Pediatric Advanced Life Support PALS is $200



Length of courses: Classes are done in one day. CPR and AED is about 2.5 hours. CPR, AED and First Aid is approx. 4 hours. BLS is approx. 3 hours long.

NEXT SCHEDULED CLASSES:

*Our Tallahassee Office classroom and location is temporarily under construction...sorry no classes scheduled for the time being *

American Heart Association (AHA) CPR, AED and First Aid Heartsaver classes:

All classes cover adult,child and infant cpr.

Register here for all Tallahassee cpr, aed and first aid classes After you you click it and you go to our registration page, be sure to select the Tallahassee location button to only see Tallahassee classes. If other dates or a private or large group class is needed, please email us at info@cprflorida.net


We teach AHA, ASHI and Red Cross CPR, AED, BLS, PALS, ACLS, OXYGEN, BLOODBORNE PATHOGENS, STOP THE BLEED AND FIRST AID COURSES.

American Heart Association Healthcare Provider BLS:
American Heart Association Healthcare Provider BLS is $80

Register here for all Tallahassee Healthcare Provider BLS classes or click the big "Sign Up" or certification card icon on this page. After you you click it and you go to our registration page, be sure to select the Tallahassee location button to only see Tallahassee classes.
If other dates or a private or large group class is needed, please email us and we will accommodate you at our office or your own location.


Directions or Locations: Our Tallahassee Office classes and location is temporarily under construction.
Tallahassee, FL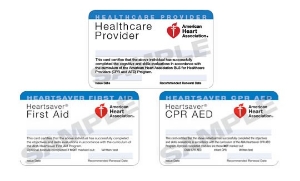 Contact us:
Email: info@cprflorida.net
CPR Florida Main Phone: 888-388-9250

If you have questions email us or call us to set up a convenient class at your own location. We can also do private, large or small group training classes at our office or at your own business, school, daycare, clinic, home or other facility.

our cpr training site is the top rated site in fl in 2019! aha healthcare provider bls basic life support cpr classes cpr , aed , first aid, acls and pals certifications tallahassee free cpr free first aid information drowning infant tips cpr test bls questions quiz new cpr cab guidelines update Florida American Heart Association CPR First Aid Training BLS Renewal New pet animal dog puppy CPR Classes tallahassee monticello quincy bainbridge ga thomasville crawfordville learn new cpr and hands on only cpr adults children and infants